Welcome to Allen's Native Ventures & Allen Acres Bed and Breakfast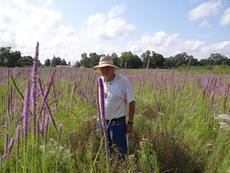 Offering professional ecological and botanical consulting services, in-depth and hands on plant identification classes, a series of annual tours and field trips, and a selection of books that cover much of the plant life in the south central US.
Learn to identify plants with one of the top botanists in the South with Dr. Charles M. Allen as your guide. Dr. Allen will lead you through hands on workshops and classes covering general Plant Identification; Wetland Plant ID; Graminoids - Poaceae (grasses), Cyperaceae (sedges), and Juncaceae (rushes); Asteraceae or Composites (a.k.a. Sunflower family); Fabaceae or Legumes (the Bean or Pea family); Edible Plant Walks and Talks, as well as on demand services.
Enjoy a stay at our bed and breakfast while you're here:
Allen Acres Bed and Breakfast is located in west central Louisiana near Cravens and Pitkin, Louisiana where there is easy access to the Kisatchie National Forest, Fort Polk, and canoeing on the Ouiska Chitto Creek. Rent one of our private rooms with comfortable beds and you'll be met the next morning with a country breakfast with farm fresh eggs. You can even help us collect them if you arrive early enough in the evening. Bring your camera and stroll through the gardens where you are sure to find a host of butterfly species, hummingbirds, and other wildlife. Make your way back to the egg factory out back, learn about the legendary unicorn milk, and even help us pick fresh homegrown tomatoes if the season is right!
Join us on Facebook